WS 131-S Banco de herrajes con ajuste para 4 perfiles OSMAN LIMAN
Banco de herrajes que proporciona la posibilidad de montaje de todos los accesorios de apertura doble utilizados en perfiles de hojas de puertas y ventanas de diferentes series, calidades y tamaños, sin utilizar metros, lápices ni moldes.
Información técnica:
OPCIONES
ASD- Atornillador automático completo con puntero laser.
TD- Motor cremonera (incluye hoja de soporte) 10*12*10
HD- Taladro y atornillador manual (sistema de dos pasos para 3-6 mm)
BC- Cajeado para cremona (12-16 mm)
EO-FR-S- Estante
Tecnical specifications:
Used to assembly all Tilt&Turn hardware systems on different types, various, sizes of window & door sash profiles without tape measure and pencil using, without need for molds and templates, provides speedy, high quality and standard assembling.
OPTIONS
ASD- Full Automatic Screwing, Automatic screew feeding unit, Laser pointer
TD- Triple handle hole drilling group (with reinforced profile) 10*12*10
HD- Semi automatic adjustable, Hinge drilling and manual hinge screwing group (Multifunctional revolver system)(2 step system for 3-6 mm)
BC- Milling tool for espagnolette channel grooving (12-16 mm)
EO-FR-S- Hardware shelf (Lighting and Functional corner element hanger)
---
Características: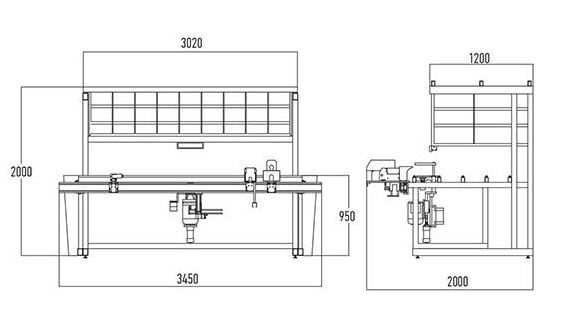 Product Gallery: